21 avril 2010
3
21
/

04
/

avril
/

2010
14:23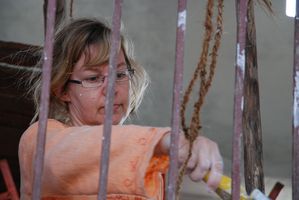 Michela, une volontaire italienne, a travaillé pour Vudhavi Karangal en 2007. Elle y est retournée en février dernier. Elle témoigne…
I'm a 45 years old Italian woman who has been in love with India from my first visit in 2003. I visited Rajasthan at that time as a tourist and I was so struck by the beauty of the country and the utter poor living conditions of the majority of people that I said to myself: I will come back here but not as a tourist.
After having spent a total of 2 months and a half in 2 different occasions working for Mother Teresa Missionaries of Charity in Kolkata, I decided to enrol myself in a working camp. Simply surfing through the Internet I found FSL organization, saw their program and just left for the next work camp available which happened to be in Pondicherry, at Vudhavi Karangal orphanage.
My expectations were not very high, as I had already learnt from my experience in Kolkata that things work differently in India. Timing, organization, initiative, will to change things so typically western, have not been much appreciated there. Therefore, learnt my lesson, I told myself to observe and accept what I would be experiencing trying to see it from different point of views.
As soon as we walked through the compound gate I was captured by the harmony and order. A mixture of Europe (1 French and 1 German girl) and East (2 Japanese girls and 2 south Korean boys) composed our group of volunteers.
We were the first group of volunteers working there and therefore the children were very curious and excited to have us in their house. I remember one of the bigger boys asking: Why are you here? As if it was such a big thing for them to have somebody coming from so far just to help them.
It took a while for the group to overcome the emotional impact and to focus on the actual work that needed to be done but then, when we started, we worked with huge enthusiasm together with the children. At that time there were about 50 boys and the 3rd floor of the hostel was almost finished. We had to bring materials like sand and bricks up to terrace.
In the morning we held some English lessons to the children who were eager and happy to relate to us. We made them act some situation of daily life like meeting someone, introducing oneself to one another or going to market and buy fruits and vegetables. I think they were not used to learn English this way and it looked like a game to them.
We made a trip to Auroville with all of them (a donor paid for hiring a bus for one day) and after that we asked them to make a drawing of what they liked most.
Every child in his own way and according to his ability followed with interest and everyone has always been very polite to us.
Children were very respectful of what Mrs Alice and Mr Maran or the teachers said to them. Children were very clean and so were their clothes. They had regular medical check ups from doctors and dentists.
When the time to leave came I broke down after two very emotionally intense weeks.
The bigger boys looking after the smallest ones moved me.
I was moved by this special woman Mrs Alice that with a lot of common sense, enlightened intelligence and a huge heart organized children's life dedicating all herself to fulfil their needs as a special mother of 50 children.
I was moved by the smiles and the eyes of the children while they were playing, learning, having their veena and their yoga lesson or while working with us.
The love and harmony one breathed there is exactly as the one you could feel in a family.
Mrs Alice, doctor in law, and her husband seemed to know as by intuition exactly how to educate children as if they were experienced pedagogues.
I met a few people in my life (I have been a hotel manager for the last 18 years) and I have not felt such an admiration for anybody in my life, never met someone so completely dedicated to others and somebody who does that with such success and so many good results. A few of the bigger boys went to college and universities.
You should see the laughter, the smiles and the happiness which spreaded among the children when Mrs Alice stepped in.
I thought of the children a lot in the last 3 years. I did another FSL work camp in another Indian state but unfortunately children were not so well looked after.
I always thought I had to go back to Pondicherry but I was afraid of bothering or of seeing things changed and I was not sure what I really could do for them once I was there.
In February this year (2010), after having spent 1 month in Varanasi learning Hindi, I decided to take the opportunity to spend a few days in Pondicherry and see how everyone was doing.
It was so nice to see them all doing well and above all to see that the same spirit was there and just imagine that boys now are 106! The third floor is finished, terrace is finished and now kitchen and computer/music room are under construction. The playground is smaller to make room for new classes.
With her typical simplicity and directness to my email full of words Mrs Alice just answered: Please come! And I had a wonderful week working at the hostel painting what it will become their new kitchen.
I do not think Mrs Alice and her husband and their children fully realize what a lesson and example they are.
I feel happy while I am with them, peaceful inside, like being home.
Hope these words do not seem rhetorical but it is not easy to convey into words deep emotions, the one which make your attitude to life change.
I bow myself in front of people like Mrs Alice and Mr Maran and their children.
My life is happier and has more sense since I know you.
Michela